Mathrubhumi : ARTICLES Published: WEDNESDAY, DECEMBER 10, 2014
Were British people cultivating tenants in Kerala?
G Shaheed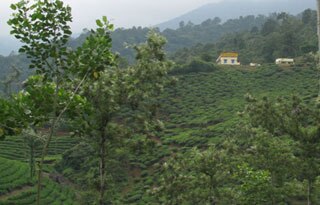 Kochi: Historians, students of history, politicians and administrators will shudder on hearing the claim of Harrisons Malayalam, a plantation company based in Kochi, that their predecessors, who were Englishmen, were cultivating tenants in Kerala.

There are widespread allegations over the company HML (Harrisons Malayalam Ltd) owning 60,000 acres of land in Kerala, mostly plantations. Majority of these plantations are set on encroached government lands.

As directed by the government under the provisions of Land Conservancy Act, Ernakulam District Collector M G Rajamanikyam was directed to conduct an enquiry and submit the report. The report submitted by the Collector was placed before the High Court at a time when there are many cases pending against HML.

Rajamanikyam has pointed out in his report that HML, with the connivance of Revenue officials, misinterpreted the Kerala Land Reforms (KLR) Act to their favour, to grab the land. The KLR Act came into force in 1963 when the then EMS Government passed the revolutionary and benevolent legislation. As per the provisions of the Act, landless tenants under the land owners were allotted land. It was only meant for Keralites and not for foreign citizens.

Lands were allotted to the landless tenants after thorough scrutiny by officials specially assigned by the government. These officials belonged to Revenue Department, who worked as land tribunals.

Rajamanikyam found that in Kollam district, at least 2,000 acres of land were grabbed by HML misinterpreting the Act and producing many forged documents. During investigations carried out by the Collector to ascertain the ownership of land held by HML, company officials had stated that their predecessors, namely Britishers in Kerala, were once cultivating tenants in Kerala and they were entitled to get the assigned land.

But Rajamanikyam rejected the arguments, which were vehemently opposed by the company officials affirming their predecessors were landless poor.

HML was formed in 1984 while their predecessor companies were registered in England in 1909. They were Malayalam Rubber and Produce Company. In 1921, Malayalam Plantations was established in the UK. There was another company named Harrisons and Crossfield. In 1978, Malayalam Plantations was set up and in 1984 HML was formed with its headquarters in Kochi.

Rajamanikyam observed that KLR Act was formed by the Kerala Government to protect Keralites and not to serve the interest of Englishmen, who treated us as slaves and plundered our wealth.

Rajamanikyam revealed in his report that nearly 30,000 acres of land were occupied illegally by HML in districts of Kollam, Pathanamthitta, Idukki and Kottayam. Examining the report, the governement passed orders on December 1, 2014 stating that the land belongs to the government.

It has also passed orders to make necessary proceedings to take physical possession of land.

In the meanwhile, HML has filed a writ petition in the High Court challenging the order. A legal battle will now ensue.